I was surprised the very first time i found a web site of NikkiTSFun. At first i thought, another ladyboy site, big deal. Then i figured the tgirl by herself was very beautiful. More than that, unlike many other shemale stars, she's contactable by email and IM, and for those who can't get enough of that she performs on her webcam daily. This girl was worth checking out! After we had an incredibly hot webcam chat, I asked her whether she would agree to give me an interview for my readers to which she agreed.. Sometimes it pays to own a shemale blog, like mine, hehe… You're getting some popularity among ladyboy hotties 😉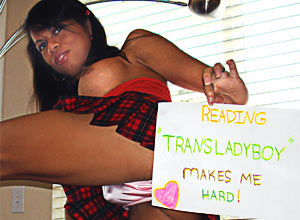 Hello Nikki, thank you very much you agreed to devote some of your time to one of your fans. Let us start with something simple. Where were you born?
Nikki: Cebu Philippines
Where are you living now?
Nikki: Palm Springs, Ca.
When did you realize you were a girl?
Nikki: The best way to answer this is, by the age of 3 my mom called my Nikki
Do you want to become a full female (get SRS)?
Nikki: No way, I love my cock. I think of it like this, there are 3 billion woman in the world and 3 billion men, but how many sexy Ladyboys are there?…so I feel very lucky that I am unique.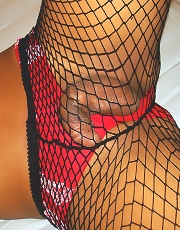 What kind of education did you get?
Nikki: I am college educated with a B.S in computer science, I am currently a real estate agent & loan officer.
How old are You and Mike?
Nikki: I am 26 years old and Michael is 39.
Are you officially married?
Nikki: In our eyes we are, we were married at the edge of the Grand Canyon and have the video to prove it, lol
Do You enjoy working with Michael?
Nikki: Yea, it was weird at first but Michael has been doing erotic sites for 11 years so he got me use to it with ease, and what can I say, when I watch how my pics & vids turn out they turn me on too,
Do you have any fetish?
Nikki: I love short skirts and panties, I can even turn myself on when I look at myself in the mirror and see this "girl" in the reflection looking all sexy with a tight short skirt and hot panties.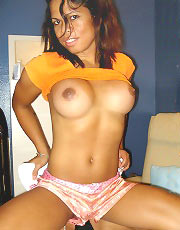 What was the best sexual adventure you had with your fan?
Nikki: We were in Vegas and this really famous guy wanted an adventure, he showed up with this crazy looking mask, went in the bathroom, did a line of cocaine and let me walk all over him with my thigh high boots, he was in good shape and wanted to get fucked, .it was very hot time.
What was the worst one?
Nikki: We made a promise that I could fuck one guy, well when the adventure started, I was really not turned on by him, it was kinda a strange time, so from now on we never say that I can fuck a guy, we just tell them it will simply depend if I get turned on enough.
Are there many men who want to get worn panties from you?
Nikki: Oh yes, guys go crazy for my silky xsmall panties, I have a great body smell, Michael thinks I am weird coz I never smell bad, he always says I smell like fresh flowers, . even when I workout and do not shower, I still have a great scent.
What drove you to the idea of opening your own site?
Nikki: Michael started doing lingerie fetish sites in 1994 he stopped after about 8 years when he decided he wanted to have an Asian Ladyboy for his partner & create a Tgirl lingerie fetish site. So he found me and helped me grow from a CD to what you see now,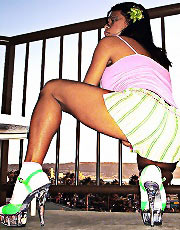 Do you know any other shemale pornstars in person?
Nikki: No
What makes your site stand out from the crowd?
Nikki: There are lots of Ladyboy/Shemale sites, but how many are actually co-owned by an actual Ladyboy that you can see on Webcam almost everyday? Guys can actually "Co-Star" with me and be a part of the site, we give them Lifetime Membership.
We are leaving for Brazil for 2 months and then going to Asia and then doing a tour around all of the USA, and on all of our shoots it will be both Michael & Me shooting with other tgirls, girls, and guys, So we are a Real Couple creating a Real site for guys that love Tgirls in sexy lingerie.
What do you want to add to your site in a future?
Nikki: We are doing an entire rebuild of the site now, so it has a more modern look. All we want to do is just travel around the world and fill Nikkitsfun with all of our Erotic Adventure series Pics & Movies.
Thanks for your answers Nikki and i wish you luck in your endeavour!