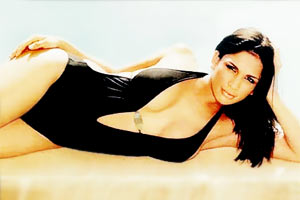 I didn't know before there was a TV realy show with a transsexual girl. The one that was aired in Great Britain in 2004, "There's something about Miriam", featured six men wooing 21 y.o. Mexican shemale model Miriam at a luxury villa in Ibiza. To add a twist to it, the contestants were not aware that she was a transwoman until the final episode and only discovered truth after Miriam picked the winner, then lifted her skirt to reveal a full set of wedding tackle.
🙂 LOL 🙂
Some of the guys were filmed in intimate situations with Miriam, snogging, cuddling and groping her, so it was a big embarrasement for them to be, as they say, "publicly humiliated" before such wide audience. Even though the contestants were warned that there would be shocks, when they found out that the object of their desires was a tranny, they started threatening to take legal action, one of them even punched the show producer. Nevertheless the show was screened anyway, after each of the participants got paid £125, 000 in compensation.
It got a huge coverage by mass media, and there's even an article about this show in Wikipedia. Now imagine, would you love to spend some quality time with a shemale as beautiful as Miriam, then get paid a pretty penny for it? I know for sure most of our readers would. And, even though the contestants will deny they liked it, we all know they did!