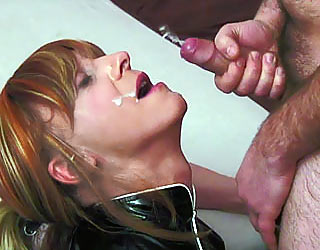 I know Luci May was travelling, so i didn't expect any new additions to her site while she was away. Imagine how surprised I was to find a new HD bukkake at her site. Naturally i couldn't wait till she goes online in my ICQ to ask her she was doing and how that bukkake session was filmed. Here's her juicy story…
11:43:30 Luci_May: Some friends of mine organised a fantastic party for me the other day. I have always wanted to do a really messy bukkake where I get loads of guys to come on my face, one after the other.
11:45:16 Luci_May: My two tranny friends got a load of guys together and started "fluffing" them for me. As each guy was ready he came up to me so I could give him some great head to push him over the top. I love giving blow jobs and these guys got some good attention from me.
11:46:50 Luci_May: As I sucked each guy off I got him to pull out of my mouth and shoot his hot, sticky load of cum all over my face. I was a real mess by the end of the evening.
11:51:18 Luci_May: Luckily a friend was there to catch every drop on video so you can see exactly what happened.