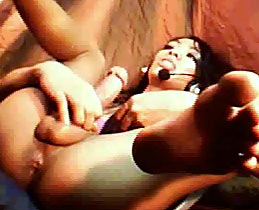 Saturday evening was the time I decided to treat myself with some nice shemale cock on a webcam, so I browsed the profiles of all ladyboys that were online and i picked the one by nick ErotiqTSbunny, she had great looks and big penis, but most importantly it was her happy hour on webcam (hence, the discounts 😉 ). And I was glad you did, Alexa (that was her name) turned out to be a very friendly and good personality, she always smiled and we both laughed a lot during our chat. When i connected to her webcam, she was obviously having a good time with herself, singing and dancing around in her tight-fitting leather panties. She didn't notice at once that i dropped in and continued to dance, as for me, all my attention was riveted to that huge bulge between her legs. I thought she must have had a hell of a big cock, at least 8″.
At this point i must confess that I fucked up again. When i watched the show i realized that the sound didn't record, which was a big loss, because Alexa had a very sexy and pleasant feminine voice. You'd never tell neither from her voice, nor from her looks neither that she's not a GG (her tits are a bit small but she said they're starting to grow)…
So she looked at her monitor and said hello, and we begin to chat. She put some lube on her huge cock and began stroking it while i started stroking mine. I asked her to turn around and show me her ass, she had very good looking round firm buttocks begging to be groped, boy that was hot. But even hotter were her big saggy balls dangling between her legs like a pendulum of a wall clock. She then laid on her back, spread her legs wide and began fingering her anus ring and massaging her big balls, while moaning loudly. At that time another visitor entered her webcam room. Some may think it's a big disadvantage oh a webcam happy hour that you're not the only one watching a shemale performing, but to me then it was a big turn on since i realized we were going to have a threesome. So this Dutch guy started fucking her ass while i shoved my pulsing cock right inside her mouth! This was just enough for me to climax and I started shooting my hot lads right down her throat and all over her face!
I gotta thank Alexa for this very nice webcam chat, And i really hope she liked me too. At least this is what i found in my message box soon after.
heheheh its nice to be with u in my happy hour…hope u can visit me alone in my room ill wait for u to knock my door hehehehe Mr.SSL hehehehehe nice name!… Alexa(ErotiqTSbunny)
You know that SSL means Shemale Sex Lover, don't you? 😉 And guess what, I know I'll be back 😉 And hopefully so will You. Meet this sexy ladyboy in her room, she might be just right there, waiting for you.
Click here to see the short preview of my 39-minute cam chat with Alexa.