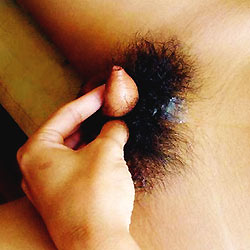 I understand not all of You guys love big shemale cocks. If you remember the poll that i started over a year ago (about the perfect size of a shemale dick), many guys opted for dicks that are less than average in size. Well, this is exactly something you're going to see tonight, a ladyboy with a small wee-wee.
This tgirl surely looks cute, with her slim body and long dark hair. Her bush is a little too hairy though (i'd prefer her to have it trimmed), but who cares about that is she has one of the loveliest dicklets out there. Watch her jerking it off for you, it would be so fucking great to help her handle her boner (btw, did you know that small dicks can be much harder than bigger ones, because they need less blood for that). And, the most pleasant part is that if you wanted to give her a blowjob, you could take all her tackle in your mouth and play with it as long as you wanted.
BTW, this site, Captain Outrageous, is good to look for kathoyeys with smaller dicks. They look for their models not only at go-go bars, like most others, but also at schools, colleges, beauty salons and other places, and, as a result, they have a pretty nice collection of girls that are too shy to be found at other sites. So, you might want to check them out for some new faces (and dicks too).

Post tags:
asian
,
dick
,
jerk off
,
kathoey
,
ladyboy
,
posing
,
shemale
,
tgirl
,
tranny
11 Responses to "Ladyboy dicklet"