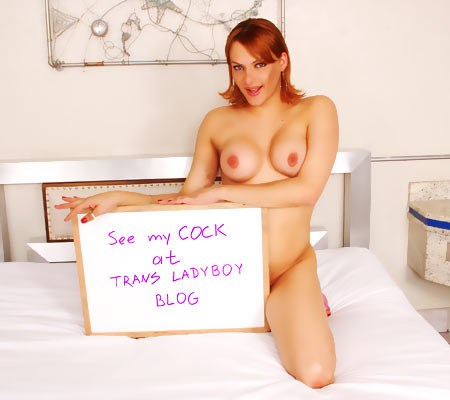 Wow! Finally i got my long promised fan sign from a shemale

This one was done by shemale Alexia and, although she promised to show her cock at my blog, i don't see any 😉 hehe. I hope to finally discover what she hides behind this white board in the next update at Brazilian Shemales Club.
The next time a photographer will be holding a session, he will take two pictures of tgirl Paola with fan signs 😉
Do You want a custom fansign made especially for You? Here's a deal for all of You my dear readers.
Post your shemale story (in "comments" section) here before July 31-rd. It may be anything – your actual experience with a shemale, your shemale fantasies, what you imagine when you masturbate and so on. Let it be something that is interesting to read for other blog visitors. Please also state what you want the fan sign to read.
The best two stories will win fan signs from shemale Paola.
I'll either pick the winners myself or make a poll where other readers can vote for the best story.
Now, shoot your stories. We need something to jerk off to 😉 Remember: write your story and what you want the fan sign to read.

Post tags:
news
,
posing
,
shemale
6 Responses to "Shemale Alexia did a fan sign for Trans Ladyboy"