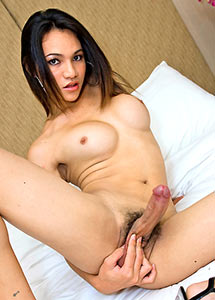 Hung Helen is all dolled up in beautiful black lace lingerie and she's inspirational. The top is a bustier of sorts made from what looks like leather. It has lace trim around the cups to draw your eyes to her breasts. You'd probably be doing that anyway since this tasty ladyboy has marvelous knockers. The skirt is all lace and Hung Helen has that typical look of pure lust on her face. You know she's feeling a little bit naughty and a whole lot dirty. Maybe you could show her a good time?
The gallery finds her in her black lingerie for two thirds of the pictures and considering how sexy it is that's a smart choice. To go with her outfit she's wearing high heels and they lend her set an extra bit of sexiness that makes you think you could have a damn fine time with her. When the sexy ladyboy does her striptease the first thing you'll see is the perky breasts. They really draw a crowd and will likely inhibit your ability to concentrate. That's a good thing though. Those beauties look fantastic.
She gets her name Hung Helen because she has a particularly impressive ladyboy dick between her legs. The gallery is one big tease until she whips out her cock, which happens in the very last picture. She spreads her legs and we see her delicious dong there and it's definitely big. She has earned her name and she will earn your desire too.
Do you think about sucking that cock or feeling it inside you? Do you dream about giving her a good fucking while you grope her tits? They're all good fantasies. See more of ladyboy Helen at her very own site, Hung Helen.